Cougar Carnival

Awards Assemblies 1st Quarter

Red Ribbon Week

​Our Spring Fling will be on April 6th from 5:00 - 7:00. It is a fundraiser for our PTO. There will be games, bouncy houses, food, and fun!
Thursday, February 23rd will be a 1 hour early dismissal day. Parent teacher conferences will be from 3:00-9:00 p.m. There will be no school on February 24th.

We are excited to present our first Center Valley Art Show!

Make plans to visit our Kingdom of Reading Book Fair!


RSD schools will be in session today, Thursday, February 2nd. Transportation will run as normal.
All RSD schools will be closed tomorrow, February 1st. There will be no AMI instruction. This day will be made up on April 7th, 2023. Stay safe and warm!

Happy New Year! It was so nice to see all of the students back at school today! Before Christmas Break, a committee of teachers gathered and analyzed the data from the surveys you all took in October/November to determine what our next steps should be. After we looked through the information, it was determined we need to put an emphasis on opportunities for stakeholders (staff, students, families, and community members) to provide input and feedback on our day to day functions of the school. With that being said, we have created a Principal Suggestion Box which can be found by the link or QR code below. This QR Code/Link will also be available on our school website. At any point in the year if you notice something you want to provide a suggestion on or if you have a complaint or if you have something you would like to celebrate, you can complete the questions on this form. It will be anonymous unless you provide your contact information. Thank you for your continued support, Mrs. Golden Center Valley Principal
Congratulations to our Staff Member of the Month, Mrs. Karen Kordsmeier!

Please join us for our 1st Quarter Awards Assemblies on Thursday, October 20.

At CVE, part of our mission is for all students to achieve high levels of learning. This activity involved all of the senses - practicing third grade math skills by creating arrays with cookie cereal! #MakingLearningFun #EffectiveStrategies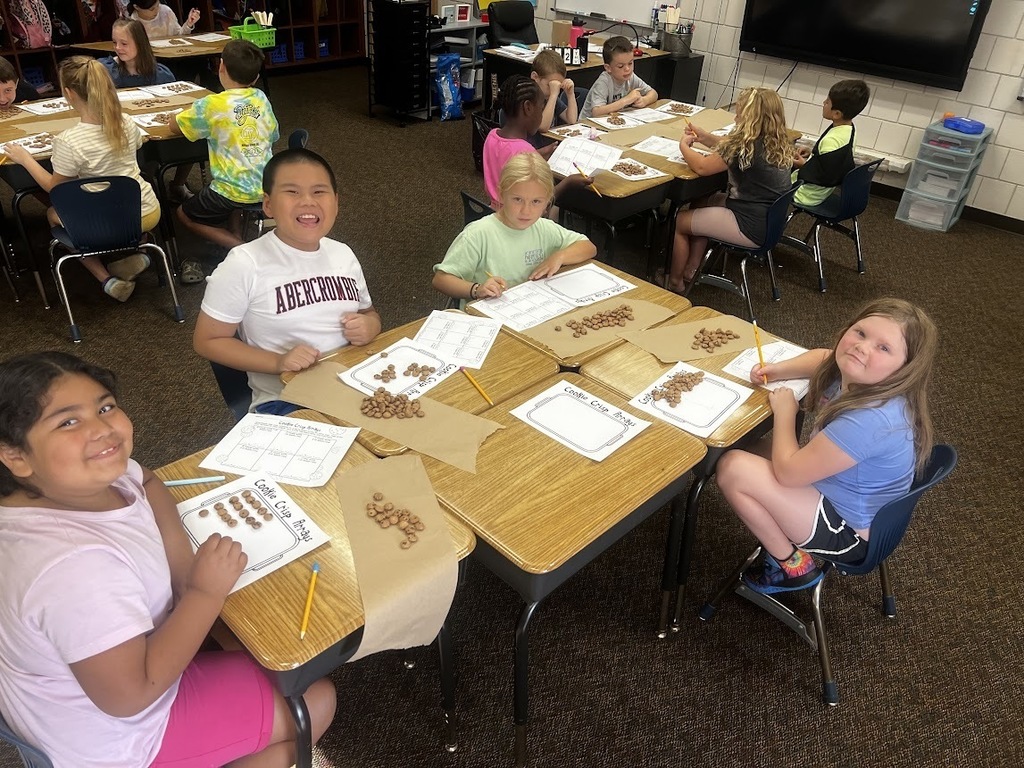 Hello Center Valley families! We look forward to talking with you about your child's progress on September 22nd. You can choose to either do a face to face or phone conference. Sign up for a time by following the link that your child's teacher sends to you. School will dismiss at 2:15 that day!

Our Scholastic Book Fair Luau will be a reading celebration! So many awesome books will be available! The hours will be 8:00 - 4:00 each school day Sept. 16 - 26. It will also be open on Parent Teacher Conference night. Cash, checks, and Debit Cards are accepted, and you can go to bookfairs.scholastic.com to set up an eWallet today. On Kick-Off Day, Friday the 16th, everyone is invited to dress in bright Hawaiian Luau wear!

Congratulations to Bailey!

A huge thank you to Pope County Farm Bureau for grilling burgers and hotdogs for our teachers and staff! It was a much appreciated "Grill & Chill"!💚 #RSDisMHA

Congratulations to our Staff Member of the Month for September!

Dear Dads, Granddads and Father Figures, Join us for Free Hot Dogs and Fun as we kick-off our Watch Dog program for the 2022-23 school year! We will have a short presentation about our WATCH D.O.G.S. ®(Dads of Great Students) Program. WATCH D.O.G.S. ® is an innovative program being used by schools across America which helps them to be positively impacted by the committed involvement of fathers and father-figures in their student's life. Our goal is to have you spend at least one ½ day this year at the school to be a positive male role model and to provide an extra set of eyes and ears. In order to participate, you need to do two things: 1. Fill out the bottom portion of the form and return it with your student no later than Sept. 8 saying that you will attend this event so we'll have an accurate head count for the food. Hot dogs will be donated by Russellville Sonic. 2. Mark your calendars, and we'll see you Thursday, Sept. 15 from (6:00 – 7:00 pm). Official WATCH D.O.G.S.® Uniform T-shirts for Watch DOGS and 'My Hero' T-shirts for students will be available for $12-$15 each. Cash and Checks will be accepted.